Florida Sundowner Beachfront Vacation Rental
A romantic beach getaway, family beach holiday, Florida vacation rental, and Outback Bowl Beach House, all wrapped in one! This luxury Florida vacation rental house is located on Indian Rocks Beach, Florida, a quiet but thriving island community located on the Upper Gulf Coast of Florida. This Florida Beachhouse is close to stores, restaurants, and recreational activities, yet it is private and has its own beautifully-landscaped backyard and Gulffront.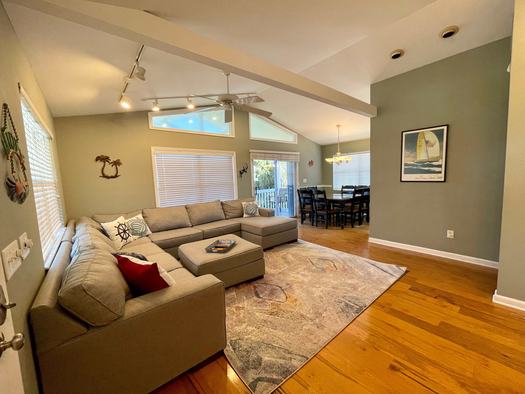 FL Sundowner, a comfortable Gulffront Florida self-catered vacation rental, is an upscale beachhouse perfect for family holidays, family get-togethers, beach retreats, other beach gatherings and 'de-stessing' from everyday pressures. The toughest decisions you'll have to make will be where to go for dinner and which tropical concoctions you'll brew up next in the blender!
The Beachhouse
This Indian Rocks Beach vacation rental is a spacious, private, and clean Florida vacation rental house that boasts 3 bedrooms with walk-in closets, 2 baths and a large office with high-speed internet (for those of you who just cannot leave work at home). A lovely covered lower deck looks out over the Gulf of Mexico and houses the BBQ and dining seating for your beachside grilling and dining pleasure. The beach home is very tranquil and relaxing, particularly the lovely upper deck that looks out over the Gulf of Mexico and the World's best sunsets ever.
Indian Rocks Beach
Indian Rocks Beach is a quiet town along 3 miles of white sand beach that was initially developed in the 1920s as a weekend getaway destination for wealthy inland residents. A barrier island 24 miles from Tampa International Airport, Indian Rocks Beach is sunny nearly every day, with historical temperatures ranging from 54 to 90 degrees F. Since the Florida Gulfcoast is the leeward side of the state, the Gulf of Mexico is usually pretty calm, with the larger waves on the Atlantic Coast of Florida. Indian Rocks Beach is a facilities-rich community as evidenced by miles of pristine beach, many parks and recreational facilities such as tennis and basketball courts, a ball field, and its most recent addition, a state of the art skateboard park.
So grab your spot on the sand and begin to relax your worries away. If you prefer to be more active, we have that too. From parasailing to deep sea fishing, shopping, dining, boat and jet ski rentals, gambling or dinner cruises, we have it all at this Florida beachfront vacation rental.